Dental Implants Treatment Timeline
By Stephen Rogers on October 31, 2013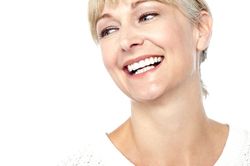 If you have missing teeth, getting dental implants is a treatment option that can greatly improve the function and appearance of the mouth. Dental implant surgery is performed in a few different stages. It begins with the dentist removing your damaged teeth and preparing your jaw for surgery and ends with an artificial tooth that is secured deep through the use of metal posts. It can take months for the entire process to be completed, but the end result is a strong and beautiful tooth. When getting dental implants and cosmetic dentistry work done, it is important for Long Island patients to have a realistic idea of how long the whole procedure will take.
Putting the Dental Implant into Place
To begin the implant dentistry procedure, your dentist will place the dental implant into your jawbone. He or she will start with an incision in the gum to expose your bone, and will then drill holes where the dental implants are going to be placed. The metal post will serve as the root of your tooth and will be placed deep into your bone.
While the area around the implant heals, the dentist can place a temporary denture or partial to improve function and appearance. This partial or temporary denture can be removed for cleaning as well as during sleep.
Waiting for the Bone to Grow
After the metal post is put into place in your jawbone, you will have to wait for the bone to grow around; this is known as the osseointegration period. During this time, the jawbone will fuse around the implant. Although this process can take up to six months, it is essential, as it will create a solid base for your new implant. Once this is complete, the abutment will be placed; the abutment is the piece that attaches the implant to the permanent tooth restoration.
Choosing the Dental Restoration
You will have three choices that you and your dentist can choose for your new artificial tooth: a crown, a bridge, or dentures. The choice will be based on the number of teeth that require replacement. A crown is typically used to replace a single missing tooth. A bridge can be used to replace one to three consecutive missing teeth. Dentures can be used to replace several missing teeth, or to replace all of the teeth in the upper and lower jaw. The final restoration will actually look like a real tooth (or teeth) with gums surrounding them. The restoration will be snapped into place and will be securely enough that it won't fall out.
Learn More about Dental Implants
Getting dental implants can be time consuming, but it is worth it. You will be left with a a functional smiles that looks natural and beautiful. If you are curious and want more information regarding dental implants, contact Greater Long Island Dental today for more information. The dentists can examine your mouth and check the health of your jawbone to determine if you are a good candidate for treatment.
Related to This
"

We are dedicated to making you feel welcomed, respected, and truly cared for.

"