Porcelain Crown Benefits
By Stephen Rogers on March 05, 2014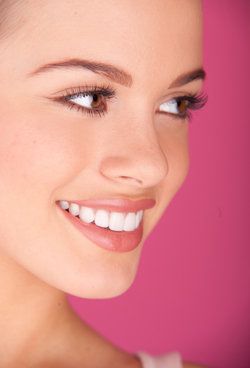 Today's porcelain crowns offer benefits not possible with traditional metal crowns, which are still a common option.
Like all dental crowns, a porcelain crown protects a damaged tooth and restores everyday function, such as the ability to chew food comfortably.
But a porcelain crown goes a step beyond the traditional metal crown by also restoring beauty to your smile. Unlike metal, porcelain is a natural-looking material that mimics the glassy luster of real teeth. When crafted into a crown, it blends seamlessly with your other teeth to create an attractive smile.
Some porcelain crowns have yet another benefit: Speed. Using today's advanced CEREC technology, a cosmetic dentist can create a custom porcelain crown and place it on your tooth, all in a single visit. Traditionally, crowns required at least two appointments: One visit to prepare the tooth and to cast a mold for designing the crown. Then, a second visit to place the crown after it has been created in a dental lab.
The dentists at Greater Long Island Dental employ CEREC to create porcelain crowns that are both durable and natural looking. Harnessing the precision of computers, they create custom crowns using digital impressions of your mouth, precisely replicating your tooth and bite to create a replacement that is comfortable, functional, and attractive.
Why Porcelain Crowns?
Dental crowns are an essential tool in saving teeth that cannot be repaired with a simple filling. A crown is a cap that encases a damaged tooth down to the gum line. By covering the entire tooth, a crown can support the tooth, protect it from further decay, and reduce discomfort or sensitivity.
Crowns made out of porcelain go beyond form and function to also restore the natural beauty of your smile. Rather than the glint of metal, the natural color of a porcelain crown allows it to blend seamlessly with your other teeth.
In addition to being beautiful, porcelain crowns are also durable, lasting anywhere from five to 25 years, depending on maintenance. You can prolong the life of a crown with the basic oral hygiene steps you take for your teeth: Brushing twice a day, daily flossing, and regular visits to your dentist.
In addition to durability, porcelain crowns have other benefits as well, including:
Comfort. Porcelain crowns feel like a natural tooth, making them comfortable.
Color. Porcelain crowns can be color-matched to your other teeth, allowing them to blend in unnoticed.
Stain Resistant. Porcelain is naturally stain resistant so it won't pick up stains from the foods you eat.
Strong. Unlike a filling, a porcelain crown has the strength to protect a tooth weakened by decay or damage.
Function. A porcelain crown is custom designed to resemble the damaged tooth, ensuring you can chew food comfortably.
Next Steps
If you have a tooth that has been weakened by decay or damage, it's important to protect it. We can assess your tooth and recommend a treatment that will solve your current problem and prevent future complications. Please call today for an appointment.
Related to This
"

We are dedicated to making you feel welcomed, respected, and truly cared for.

"