Porcelain Crowns Lifespan and Replacement
By Stephen Rogers on March 06, 2014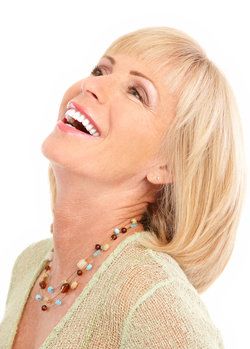 Teeth are constantly exposed to force and pressure from chewing and biting, as well as bacteria that feed on starches and sugars that are left behind by foods and beverages. With these conditions, it is not surprising that even well-cared for teeth may eventually become weak or damaged. In these cases, a porcelain crown can significantly improve the health, strength, and aesthetics of the tooth. A porcelain crown is a shell of ceramic material that fits over the damaged tooth to add a layer of strength and protection. With proper care, porcelain crowns can last for many years. However, when Long Island patients do require porcelain crown replacement, our cosmetic dentists at Greater Long Island Dental can treat the tooth with a new porcelain crown.
What Is the Lifespan of a Porcelain Crown?
At our practice, we use dental crowns that are made using a strong and durable porcelain material. These restorations are made to withstand many years of normal wear and tear. If a porcelain crown is fabricated and fitted to the tooth correctly, it should last for a minimum of five years. However, with the practice of good oral hygiene habits and the avoidance of excessive wear and tear (from habits such as nail biting and teeth grinding), it is more likely that a porcelain crown will reach a lifespan of between 10 and 15 years, with some patients extending the life of a porcelain crown to more than 20 years.
Replacing a Porcelain Crown
Although porcelain crowns are highly durable, unless they are placed in the patient's later years, it is likely that they will reach their lifespan and require replacement at some point. Fortunately, the replacement procedure for a porcelain crown is quite simple and very similar to the initial treatment procedure.
Before a porcelain crown can be placed, the tooth needs to be properly cleaned and any damaged tooth enamel must be removed. In the case of porcelain crown replacement treatment, the old porcelain crown will be removed and any remaining dental bonding material will need to be filed off before the tooth is cleaned. Using computer images, molds and measurements will be made of the mouth so that a new crown can be fabricated. At Greater Long Island Dental, we offer patients the benefits of CEREC technology. All the measurements that are taken are sent to a milling machine that is in our office and the new crown will be fabricated in a matter of minutes.
With the new porcelain crown completed, our cosmetic dentists will check for fit and comfort. When the proper fit has been achieved, the crown will be bonded to the tooth. With a new crown in place, the patient should have another ten or more years of strength and protection thanks to porcelain crowns treatment.
Schedule an Appointment
Porcelain crowns are a versatile dental treatment that can restore comfort, function, and beauty to the teeth. If you have a tooth that has suffered from damage, injury, or decay, or are in need of replacement of an old porcelain crown, schedule an appointment with one of our cosmetic dentists at Greater Long Island Dental at your earliest convenience. We look forward to hearing from you!
Related to This
"

We are dedicated to making you feel welcomed, respected, and truly cared for.

"