Root Planing and Scaling: What Is It, and When Is It Needed?
By Stephen Rogers on September 04, 2014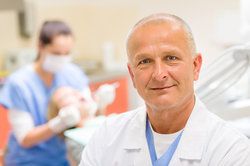 One of the most common practices for preventing dental problems is a routine professional cleaning, through which our Long Island dentists can remove layers of plaque and decay from teeth. However, sometimes the most infected areas of tissue are not immediately visible, and may in fact be buried below the gum line. In such cases, patients may suffer from advancing gum disease, which can lead to additional complications within the mouth or in regard to one's general health.
In order to prevent gum disease from spreading and infecting both gum and tooth tissue, another type of cleaning may be utilized. Namely, root planing and scaling - also called a deep cleaning - can restore the health of a patient's gums while keeping infection from spreading to the roots of teeth. If your dentist has recommended this restorative dentistry treatmentor you suspect you may suffer from gum disease, here's what you need to know about a deep cleaning and how it is implemented.
What Does Root Planing and Scaling Comprise?
A deep cleaning is similar to a regular professional cleaning in that it seeks to remove harmful bacterial and polish the surfaces of teeth. Unlike a typical cleaning, though, this procedure primarily treats the roots of teeth and soft tissues below the gum line, where normal hygiene and cleanings cannot reach.
First, a scaling tool will be used to scrape away plaque and tartar from between the gums and roots. This will clean out the colonies of bacteria responsible for the infection of tooth and gum tissue. Depending on how loose one's gums already are and the depth of infection, a local anesthetic may be used to reduce discomfort first.
Once pockets of infection have been cleaned out, a planing tool will be used to make the roots of teeth smoother. By creating a smooth surface, bacteria will be less likely to grow and spread along teeth. Oftentimes, antibiotic fibers will also be inserted between roots and gums, facilitating the healing process and minimizing the chance of future infection.
When Is a Deep Cleaning Needed?
Whereas all patients may benefit from regular hygienic cleanings, not everyone is necessarily a good candidate for a deep cleaning. Because a deep cleaning focuses on the roots of teeth, there must first be bacterial infection present in the area. This means that the gums have already begun to pull away from teeth due to gum disease, allowing bacteria access to tissues that are normally submerged below the gum line.
If you are not sure if root planing and scaling is yet necessary, consider the common signs of gum disease:
Reddened gums
Swollen or sensitive gums
A receding gum line
Gums that are prone to bleeding during brushing or flossing
Gums that pull away from teeth
Bad breath
Loose or shifting teeth
Pockets of infection beneath the gums
Of course, not every case of gum disease may necessarily call for a deep cleaning. The progression of disease is reflected by the number of symptoms present and their severity. If you have only begun to show signs of inflamed gums, there is a good chance that at-home hygiene can keep infection from progressing. If, however, your dentist determines that more direct intervention is required to prevent the spread of decay into your roots, then a deep cleaning is an excellent next step.
The Benefits of a Deep Cleaning
A deep cleaning is often the first professional step against advancing gum disease. If the roots of teeth are exposed to decay, they must be cleaned in order to prevent the onset of cavities or similar complications. Moreover, if roots do become infected, they must to be treated with root canal therapy, which in turn often requires permanent dental crowns to protect lost tissue. Thus, deep cleanings are a great way to prevent additional and more invasive restorative procedures.
Although not all cases of gum disease may call for a deep cleaning, root planing and scaling is highly effective at curbing the presence and spread of disease. Combined with positive hygiene habits at home, this treatment allows patients to regain control over the health of their gums after a single, relatively non-invasive, procedure.
Keep Your Teeth and Gums Healthy
Your dental health is dependent upon consistent care, both at home and professionally. If you have not yet scheduled your next cleaning and exam, contact our office to set up an appointment. Likewise, our dental professionals are happy to answer any of your questions regarding our restorative or cosmetic treatment options.
Related to This
"

We are dedicated to making you feel welcomed, respected, and truly cared for.

"