Oral Health Problems and Smoking
By Stephen Rogers on November 09, 2014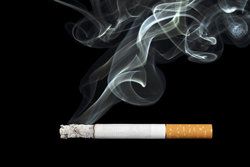 Smoking is a dangerous habit that can affect your health and appearance. It increases the risk of several serious medical conditions, including lung cancer, heart disease, and emphysema. Habitual cigarette smoking also accelerates the signs of aging, such as wrinkles and age spots. In addition, smoking affects a person's oral health in a number of ways, and it typically leads to the need for restorative dentistry treatments to improve the health of the teeth and gums. In this blog post, the dentists of Greater Long Island Dental describe how smoking can affect a patient's oral health.
Bad Breath
Smoking contributes to bad breath in several ways. It:
Leaves smoke particle residue on the throat and lungs
Contains chemicals that emit a foul odor
Leads to increased plaque and tartar build-up
Dries out the mouth, inhibiting the mouth's ability to wash away food particles
Makes patients more prone to gum disease
Tooth Discoloration
Smokers are more likely to develop yellow or brown-colored discoloration of the teeth. This tooth discoloration is caused by the nicotine and tar in cigarettes. In addition, patients who smoke are more likely to have a coating of plaque on the teeth; this can contribute to tooth discoloration.
Increased Plaque and Tartar Build-up
Smokers accumulate more plaque and tartar build-up than non-smokers. The longer that plaque and tartar are allowed to remain on the teeth, the more likely it is that the patient will develop cavities or gum disease.
Jawbone Loss
Chronic smoking can result in alveolar bone loss, or the loss of bone in the area that supports the teeth.
Increased Risk of Gum Disease
Smoking can suppress the immune system, impairing a person's ability to fight infection. It can also delay healing when a patient does seek treatment for periodontal disease.
Increased Risk of Oral Cancer
Smoking increases the risk of several types of cancer, including oral cancer. If you smoke, you are more likely to develop throat, salivary gland, and tongue cancer.
Delayed Healing after Oral Surgery
Cigarette smoking causes delayed wound healing after oral surgery. The habit decreases the amount of oxygen in the blood, depriving the healing site of the oxygen and nutrients it need to heal quickly.
Lower Dental Implant Success Rate
Because of the slower rate of healing in cigarette smokers, along with the damage that it can cause to bone and gum tissue, the success rate of dental implants is lower in patients who smoke. Those that do undergo dental implant surgery should be prepared to quit - permanently, or at least for a few weeks before and after surgery.
Dry Mouth
Smoking dries out the mouth. When patients have an insufficient amount of saliva, food particles do not rinse away as regularly, leading to plaque and tartar build-up. This can cause bad breath and increase the risk of cavities and gum disease.
To schedule a dental appointment, and receive treatment for oral health problems caused by smoking, contact Greater Long Island Dental today. We will be happy to help you improve the health and beauty of your smile.
Related to This
"

We are dedicated to making you feel welcomed, respected, and truly cared for.

"