Porcelain Veneers: Tips for Proper Cleaning and Aftercare
By Stephen Rogers on November 09, 2017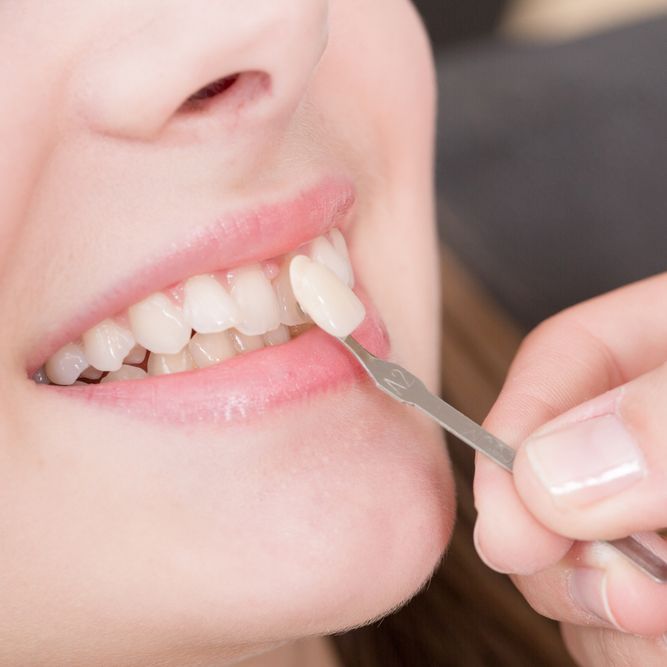 Porcelain veneers are thin shells of dental ceramic that are used to conceal aesthetic flaws in your smile. Veneers fit over the fronts of your teeth, masking stains, chips, cracks, gaps, and misalingment from view. They are an excellent and extremely versatile cosmetic dentistry option, and a staple for many smile makeover treatments.
When patients of Greater Long Island Dental get porcelain veneers, we want to make sure they have beautiful smiles that last. Let's look at the general aftercare of porcelain veneers and what patients can expect.
Caring for Temporary Porcelain Veneers
Before you have your permanent porcelain veneers placed, you will have to wear temporary veneers. These will protect the prepped teeth from harm. Generally these temporary veneers are worn for about a week to two weeks depending on when you permanent veneers are completed.
While wearing temporary veneers, patients are asked to avoid eating sticky foods, such as chewing gum, taffy, or caramel. These foods can potentially dislodge the temporary veneers. In addition, it may be ideal to avoid crunchy foods while your temporary veneers are in place, and to try to chew in a different part of your mouth than your temporary veneers.
Getting Your Permanent Porcelain Veneers Placed
When your permanent veneers arrive, the temporary veneers will be removed. Your dentist will check the fit of the permanent veneers one last time, making final adjustments as needed before the veneers are adhered in place.
For the first 24 hours, patients will want to be careful about eating crunchy foods. Being cautious for that first day will help ensure that the veneers set in place properly and are positioned correctly.
Proper Oral Hygiene for Porcelain Veneers
In terms of proper aftercare for porcelain veneers, simple oral hygiene practices are generally all that's required. That means brushing your teeth at least twice a day and flossing at least once a night. Ideally you'll want to brush and floss after every meal.
Be sure to use a toothbrush with soft bristles and to be gentle ye thorough when cleaning your teeth in order to prevent dental damage of various kinds. A toothpaste that is not too abrasive is also ideal.
Tips for Protecting Your Porcelain Veneers
Porcelain veneers are very durable, but they are subject to wear and tear. To prolong the life of your porcelain veneers, consider the following:
Avoid smoking and use of tobacco products
Do not chew on ice cubes, pen caps, drinking straws
Do not use your teeth to open packages
Wear mouth protection when playing sports
Wear a helmet or face protection when applicable
Visit your dentist twice a year for routine checkups and cleanings
How Long Will My Porcelain Veneers Last?
With good care, your porcelain veneers should last for around 10 years, perhaps even more. By the end of that time, your porcelain veneers will need to be replaced. Thankfully the process is as simple and straightforward as the initial placement of the porcelain veneers. Aftercare for the new veneers is identical as well.
Learn More About Porcelain Veneers
If you are interested in porcelain veneers and would like to find out if they are an ideal treatment option for you and your needs, be sure to contact the dentists of Greater Long Island Dental. We will address any concerns you may have to ensure you receive the right cosmetic dentistry treatment.
Related to This
"

We are dedicated to making you feel welcomed, respected, and truly cared for.

"