The Benefits of Root Canal Therapy
By Stephen Rogers on December 07, 2017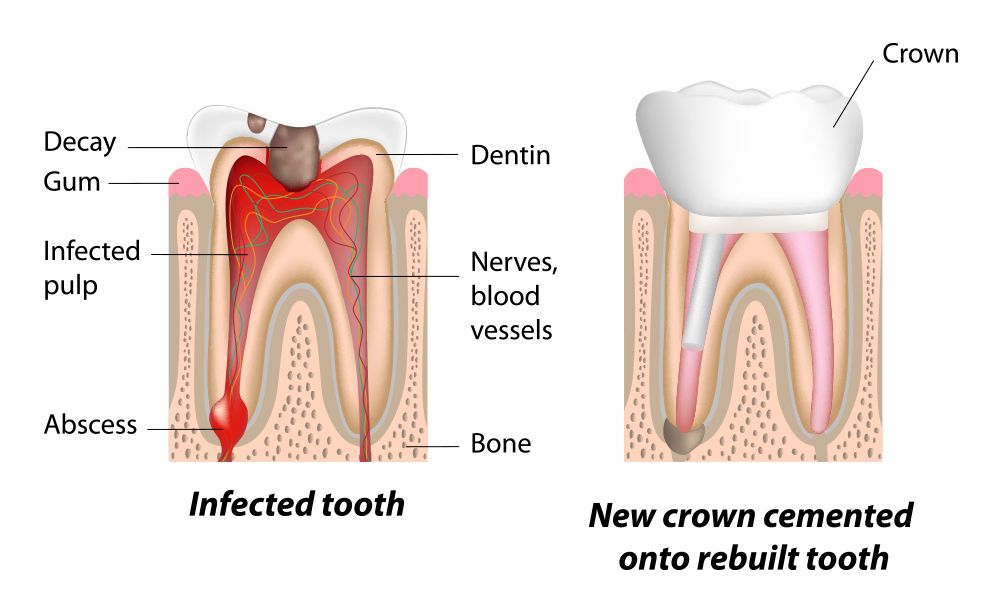 Here at Greater Long Island Dental, we believe in providing patients with the best in advanced dentistry. We offer the latest in cosmetic and restorative procedures as well as traditional dental care services that help prevent tooth decay and treat gum disease.
When teeth become infected, root canal therapy (endodontics) is typically the most ideal treatment option. Let's go over the basics of root canal infections and then consider the benefits of undergoing root canal therapy.
The Anatomy of a Tooth
To understand the way root canal therapy works, it's important to consider the anatomy of a tooth. Inside of every tooth is a small bundle of soft tissue known as dental pulp. This collection of nerves, blood vessels, and connective tissue were essential for the initial development of the tooth.
When a tooth is seriously decayed or injured, bacteria in the mouth can reach this dental pulp. The resulting inflammation is known as a root canal infection. There are many ways to treat this painful tooth infection, and the most ideal option is root canal therapy.
What Is Root Canal Therapy?
Root canal therapy involves the removal of the infected dental pulp from the tooth. Once the pulp is removed, the pulp chamber in the tooth is sterilized and then filled in with an inert material. The tooth is then capped with a crown to protect it from further harm and restore the patient's ability to bite and chew.
Prevents the Spread of Infection
One of the major benefits of root canal therapy is that it prevents the spread of further infection. This means that there is no chance of the gum tissue or bone structure becoming infected, and there is no chance of an abscess developing.
Saves a Tooth from Extraction
Root canal therapy helps prevent the need for tooth extraction by stopping the infection and restoring the compromised tooth. This means patients will not have a gap in their smile and will not require a bridge to replace a tooth that has been extracted.
Relieves Pain and Restores Tooth Function
Root canal therapy can be temporarily painful given the nature of the treatment, but that discomfort is nothing compared to the pain of a tooth infection. Root canal therapy relieves the pain from infection and, by capping the tooth, restores a person's ability to bite and chew as they normally would.
Preserves a Patient's Natural Tooth Structure
In dental care, it's always best for a patient to retain as much of his or her natural tooth structure as possible. With root canal therapy, a patient gets to keep their tooth, which prevents issues with bone loss and gum recession that occur after the loss of a tooth. Less restorative work is better in the long run.
Root Canal vs. Tooth Extraction
When a tooth cannot be saved through root canal therapy, the only viable option to address the infection is tooth extraction. While not as good as root canal therapy, tooth extraction is still better than allowing the root canal infection to go untreated. Tooth replacement options can be discussed in more detail during the consultation process.
Learn More About Root Canal Therapy
To learn more about root canal therapy and how it can help you have a healthy smile, be sure to contact an experienced cosmetic and restorative dentist today. The team at Greater Long Island Dental will work with you to help improve your dental health and wellness.
Related to This
"

We are dedicated to making you feel welcomed, respected, and truly cared for.

"