Frequently Asked Questions (FAQs)
---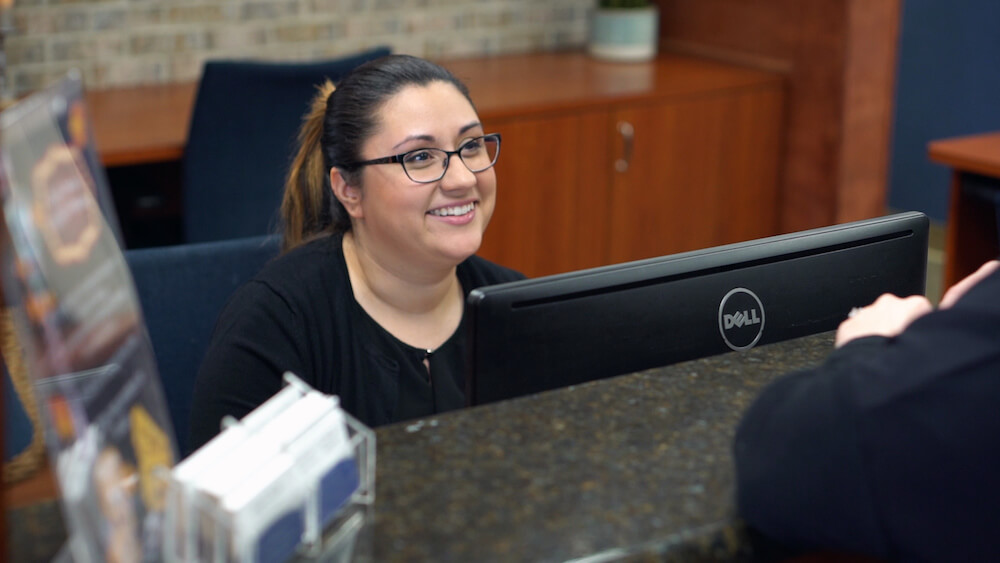 ---
Dental Implant Dentistry
---
How do I know if I am a candidate for dental implants?

Different factors determine whether or not a patient is a good candidate for dental implants. Some of these factors are bone levels, bone density, and medical conditions. A 3D scan will determine these factors and will be taken at your initial visit.

Why do I need a CT scan prior to my surgery?

Traditional X-rays provide a 2D view and a limited scope of view. A CT scan provides a 3D view of the entire jaw and enables the dentist to accurately treatment plan the exact placement of the implant.

How long do dental implants last?

Dental implants are a long-term replacement for one or more missing teeth. Dental implants can last upward of 25 years, but a patient's oral health care and habits have a direct effect on any restoration in the mouth.

Can I return to work the day after implant surgery?

Implant surgery is a routine dental procedure. A patient can resume regular activity with 24-48 hours.

I have dentures but do not want to take something in and out, can implants help?

Implants are a great tool to help secure dentures and prevent the use of denture adhesives. There are many different options for implant supported dentures which can be done with the use of as little as two implants.

How long before I get a tooth on top of my implant?

Every specific case can vary but the average time for implant restoration is within 3-6 months.

How can I cover the space while in the healing phase?

A custom removable appliance can be made to temporarily cover the missing space if it is located in a visible area of the mouth. For spaces in the back of the mouth, our patients usually find that this option is not necessary.

How long is the healing phase?

If there are extractions and bone grafting involved in the surgical plan, then the healing phase can be upward of 6-8 months. If the site is prepared and ready for implant placement, then the healing phase could be between 3-4 months. Every patient's healing time is different; this is an integration process of the body and the implant.

Can I get Teeth in a Day?

Another name for teeth in a day is "All On 4" or "All On 6." These appliances are made out of a solid block of zirconia and are fixed to a series of 4-6 implants. Within 24 hours of implant placement, the denture is securely screwed into the dental implants that have been placed.

Are dental implants expensive?

Traditional replacement options are actually more "expensive" than that of dental implants. Because dental implants are a permanent replacement for missing teeth, they do not need to be replaced or redone every 5-10 years. It seems that traditional replacement such as crowns, bridges, and dentures have a lower up-front cost but the replacement of these restorations will be done more than once in a patients lifetime, therefore, making them the more expensive option.

Why should I choose GLID for these services?

Using the most advanced dental technology, Greater Long Island Dental can provide you with accurate diagnostic, surgical, and restorative options. 3D scans, printers, surgical guides and fabrication of teeth are used together to ensure that our patients have seamless, comfortable, and accurate long-term replacement for missing teeth.
---
Orthodontics FAQs
---
What is clear aligner therapy?

Clear aligner therapy is a different approach from traditional brackets, bands, and wires that enable the movement of teeth using removable clear aligners to correct the effects of malocclusion (bad bite).

What is the cost of Invisalign?

Like any other dental treatment, the cost of treatment depends on the severity of the case. More extensive and aggressive movements will require more work and more time. During your initial consultation, your dentist will let you know the type of treatment you will require to achieve the results you are looking for. Fees range between $4500-$7500 taking all factors into consideration. Each case is personalized to achieve the necessary results for each patient. We have different affordability options that enable our patients to start the same day!

How long does orthodontic treatment take to complete?

The end result of each individual case will determine the amount of time needed to complete the case. The average orthodontic case can take approximately 12-14 months. A virtual simulation will enable your dentist to determine the approximate length of treatment.

What can I expect on my routine orthodontic visits?

Expect to see your dentist every 6-8 weeks for your routine orthodontic visits. On your visit, we will evaluate the movement of your teeth and make sure you're on track. We use a tool called Clin-Check, which is the virtual prescription, letting us know precisely where your teeth are supposed to be throughout each stage of aligner wear. You will then receive the next 6-8 weeks' worth of clear aligners so that you may continue your treatment.

What will happen at my initial orthodontic evaluation?

Children should be introduced to the dentist at the time of the eruption of the first tooth. It's our focus to make sure that they have a great experience at the office, taking a ride in the chair, getting to know the team and understanding that it's a fun place to be! A cleaning and fluoride treatment will be performed at that time and should be done every six months.

Do I need to have teeth pulled to have orthodontics?

When it comes to modern-day orthodontics, we feel that it is better for a patient to have a full complement of teeth, therefore, we usually will not pull teeth. In some rare cases, teeth need to be removed. This will be determined on the initial consultation.

I don't have orthodontic insurance, are there different financial options available to me?

If you do not have orthodontic benefits, you are not alone. We have many different affordability options that are available to make orthodontic treatment fit within the means of each patient's lifestyle.

How often do I have to see the doctor for my regular ortho visits?

Unlike traditional braces, routine visits are less frequent. We know your time is valuable! Expect to visit your dentist every 6-8 weeks.

How many hours a day do I need to wear my Invisalign?

It is recommended to wear your aligners 22 out of 24 hours a day unless you are eating or drinking something of color. Colored or sugary drinks can get underneath the aligners which can cause discoloration and if not cleaned properly – decay!

How long do I have to wear my retainers?

Retention is for life, or as long as you would want to keep your teeth straight. It is usually recommended to wear your final retainers every night to bed unless otherwise directed by your dentist.

Should I have my teeth cleaned while in treatment?

Absolutely! It is essential to take care of your teeth exactly as your healthcare professional recommends. Plaque and tartar should be removed regularly so bacteria is not harbored underneath the aligners during treatment.

Am I too old for Invisalign?

Definitely not! In fact, teeth can move at any age, and they continue to do so as we get older. About 75% of adults suffer from a "bad bite," or malocclusion.

Why should I choose GLID for these services?

Dr. Woltmann is a Gold Premier Provider in Invisalign performing over 60 cases per year. Always on the forefront of the latest dental technology, Dr. Woltmann uses digital computer scanning to ensure timely results, precision, and comfort for all of our patients.
---
Periodontal Disease
---
What is gum disease?

Gum disease is when plaque and calculus start to build up around the margins and in between the teeth. Gum tissue begins to get inflamed and separates itself from the margins of the teeth. This allows plaque and tartar to accumulate on the root surfaces of the teeth. Only a dental professional with specific tools can remove this type of plaque and tartar. Should this problem be ignored, a patient can run the risk of infection, tooth mobility, and even in more severe conditions, tooth loss!

What is gingivitis?

Gingivitis can be the start of periodontal disease if not treated properly. When plaque and tartar are left on the surfaces of the teeth above the gum line, it can create inflamed, sometimes red gums that can be sensitive to touch and in some cases even bleed.

How often should I see my dentist after being diagnosed with periodontal disease?

Usually, it is recommended to visit your doctor and hygienist every 3-4 months. Periodontal disease is episodic in nature, and patients with gum disease tend to have a more frequent buildup of calculus than a patient with healthy gums. If a patient neglects to visit as prescribed, they are more susceptible to having a flare up again.

What is Arestin therapy?

In the presence of periodontal disease, your doctor may choose to use an antibiotic called Arestin. Arestin is a non-systemic minocycline based antibiotic which is delivered directly into the infected area and treats the infection for 21 days.

Why do I have to take antibiotics before my dental appointment?

Specific medical conditions or surgeries will determine the need for pre-medication, or antibiotics before your dental reservation. Artificial joints, stents, and specific medical conditions are some of the contributing factors. Your dentist will consult your medical specialist and determine whether or not your specific condition requires antibiotics, or "pre-medication."

Can periodontal disease return after being treated?

YES! Periodontal disease is episodic in nature. It cannot be reversed, but it can be maintained. With proper home care and regular treatment from your hygienist every 3-4 months, we may be able to prevent a flare-up. My teeth are loose, do my gums have something to do with this? Absolutely! In the presence of moderate to severe periodontal disease, it is common for teeth to become mobile.

My gums are receding, can this be fixed?

There are different ways to rejuvenate the gums after the process of recession has occurred. Surgical procedures such as gum rejuvenation have excellent results in as little as 24 hours.

Why should I choose GLID for these services?

The idea of periodontal surgery can be scary and may cause patients to neglect or put off returning for their hygiene therapy reservations. This can be detrimental to a patient's overall oral health. Not only are our team of hygienists at Greater Long Island Dental non-surgical periodontal therapists, but they are also licensed to administer nitrous oxide and a local anesthetic to ensure the comfort of our patients.