Implant-supported Dentures Provide Unmatched Security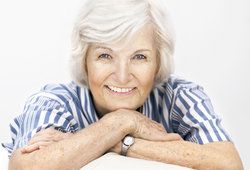 Implant-supported dentures are the premier option for full-arch restoration. At Greater Long Island Dental, we work hand-in-hand with trusted oral surgeons to facilitate your dental implant surgery, then restore your smile with a high-quality denture. Each denture our dentists create is designed for each patient's unique smile. Because we work closely with your oral surgeon, your dentures will fit snugly and comfortably on your dental implants, providing you with optimal restored function and aesthetics. To learn more about how implant-supported dentures can benefit you, contact our Long Island office today.
Designing Your Restoration
Whether you have previously had dental implants placed or are preparing to undergo surgery, we can create a customized denture for you. Your mouth will need to fully heal after surgery before you can receive your permanent denture. During this time, we can provide you with a temporary denture to wear while your jaw bone fuses with the implant posts, securing them in place. Your temporary restoration will also provide you with a chance to determine any alterations to your permanent denture, such as changes in color, shape, or size.
Once your dental implants are ready to support your denture, we will send photographs, x-rays, and digital images of your teeth and mouth to our dental laboratory. This information will ensure that your denture is created to our exact specifications. Each smile is one-of-a-kind, so this customization is essential to creating a lifelike, comfortable, and functional denture.
Benefits of Implant-supported Dentures
Implant-supported dentures offer a wealth of benefits including:
Implants provide stimulation to your jaw bone, mimicking the function of your natural tooth roots. This slows the process of jawbone resorption, which occurs after tooth loss.
Implant-supported restorations allow you to eat and speak with confidence, knowing your dentures will never slip out of place.
Our dentures are made of the highest-quality materials that look natural and are resistant to breaking, chipping, and staining. With proper care, your denture will stay beautiful for years to come.
Implant-supported dentures are easy to maintain. Because they are affixed in place, you will clean them just like your natural teeth. At your biannual visits to Greater Long Island Dental, our dentists will ensure that your gums and jaw are healthy, and that your dental implants and prosthesis are functioning like they should be.
In some cases, an implant-supported denture can be secured with as few as four implants. Even if your denture requires a greater number, this restorative solution is more cost effective than a full set of implant-supported crowns.
Determining Your Candidacy
Implant-supported dentures are a great option for many patients. Because they restore your full upper or lower arch, dentures are designed for patients missing most or all of their teeth. If you are missing a smaller number of teeth, a dental crown or bridge may be a better option for you.
Dental implants require the support of a strong and dense jaw bone. If you have insufficient jaw bone structure, you may need to undergo bone grafting surgery to build up your jaw before your implants are placed. Candidates should be healthy enough to undergo surgery. Finally, patients should be prepared to follow special instructions and restrictions following the procedure, and not smoke during their recovery.
Learn More During an Appointment
To learn more about implant-supported dentures and whether they are right for you, contact us today.
"

We are dedicated to making you feel welcomed, respected, and truly cared for.

"