There are so many different types of dentists, that it can be hard to know which one to go to. If you are not sure if you should visit a general dentist or a cosmetic dentist, here we'll explain how these 2 types of dentists can help you.
General dentists are the go-to experts for everything related to dental health
General dentists can provide preventive care, emergency care, restorative care, and more. Their mission is to help their patients prevent any potential issues from happening in the future — like cavities and gum disease — as well as to treat toothaches and other problems that may be affecting their dental health at the present. 
What general dentists do
General dentists provide a variety of services that aim to keep your mouth healthy and strong. These include:
Checkups and exams.

Did you know that visiting your dentist every 6 months is as important as brushing your teeth every day?

During these visits, your dentist evaluates your mouth and looks for any signs of decay, damage, or infection. They may also take some X-rays of your mouth. All this is very important since some dental problems often go unnoticed until it's too late. By spotting any issues on time, you and your dentist can work together to treat them before they become serious.
Cleanings.

When you visit your general dentist, you'll likely get a dental cleaning — and cleanings are more important than you may think!

During dental cleanings, your dentist or hygienist removes tartar that has built up on your teeth, which is very difficult to clean by yourself at home. This prevents the formation of cavities and gum disease (an oral issue that can lead to tooth loss).
Restorative treatments

. If one of your teeth has been damaged by decay, infection, or trauma, a general dentist will determine the right treatment for you. These treatments may include

root canals

, fillings, implants, and extractions.

Mouthguards.

If you suffer from snoring, tooth grinding, or sleep apnea, your general dentist may be the first person you want to see. Some patients don't even know they have any of these conditions until they see their dentist!

Depending on your situation, your dentist may create a custom mouthguard to protect your teeth.
Cosmetic dentists focus on improving the appearance of your teeth
Cosmetic dentists can enhance the appearance of your smile by whitening your teeth, fixing a crooked smile, and repairing cracked and chipped teeth. Their purpose is to help you smile and laugh with confidence.
If you are looking to improve the way your smile looks, cosmetic dentistry is the way to go!
What cosmetic dentists do
A cosmetic dentist can provide many solutions, including:
Teeth whitening.

This is an easy and commonly-used way to get a brighter smile. Teeth whitening is a great alternative for patients who have stained or discolored teeth. There are different types of teeth whitening treatments, some can be done at home and others at a dentist's office.

Veneers.

Porcelain veneers are often used to address a variety of cosmetic issues, like crooked teeth, stains, and gaps.

Dental bonding

(tooth-colored composite filling).

Dental bonding is a fast and effective solution to cracked and chipped teeth. It can also be used to solve other issues, like gaps between the teeth and deep stains.

Botox treatments.

Some cosmetic dentists perform injectable treatments such as Juvederm and dental Botox. These treatments are designed to help patients smooth out wrinkles, helping them improve their appearance.
Where general dentistry and cosmetic dentistry come together
As you may guess, in some cases general dentistry and cosmetic dentistry overlap. These are some treatments designed to both improve your dental health and help you look great:
Invisalign clear aligners.

If you have misaligned teeth, this might be a good option for you. Invisalign aligners are removable plastic trays that move your teeth into the right position so they can grow into their proper place naturally (no surgery or braces involved!).

As its name implies, they are transparent, so they are virtually unnoticeable — and very effective.
Crowns.

Crowns are also considered a restorative treatment. They are "artificial teeth" made out of porcelain that are placed on top of implants to replace missing teeth, or to protect teeth with very large areas of decay. Their purpose is not only to restore the beauty of a smile by replacing an absent or compromised tooth, but to restore the patient's ability to chew, smile, function and speak normally.
So, which one to choose?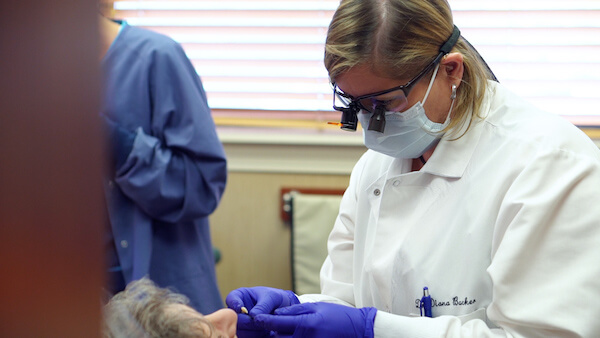 Many general dentists are trained to provide both general and cosmetic dentistry solutions. If you want to learn which one is best for you, our team at Greater Long Island Dental can help!
Our experienced dentists in Massapequa are qualified to provide you with any general or cosmetic dental solution that you need. They will answer your questions and recommend the best treatment for you.
Book an appointment online or call (516) 798-4223. We can't wait to help you smile!